We are a computational group based in the MRC London Institute of Medical Sciences at Imperial College headed by Boris Lenhard. Our major research interests focus on:
Structure and function of gene promoters
Function and genomic distribution of gene regulatory elements
Function of transcription factors
Regulation of the production of transcription factors i.e. transcriptional regulatory networks (TRNs)
Association of different modes of regulation with epigenetic marks and their inheritance
Transcriptional and translational regulation and dynamics in embryonic development
The role of core promoters and their diverse architectures in vertebrate development and differentiation
Emergence and evolutionary dynamics of conserved non-coding elements
Most of our work until now has been purely computational, either analysing publicly available data or in collaboration with experimental laboratories using high-throughput sequencing techniques such as CAGE, ATAC-seq, MNase-seq, RNA-seq, ChIP-seq and Hi-C. Since 2016 we also have experimental activity focusing on studying functional diversity of promoters in development and differentiation.
Visual Abstracts
Germ cell differentiation requires Tdrd7-dependent chromatin and transcriptome reprogramming marked by germ plasm relocalization
Global regulatory transitions at core promoters demarcate the mammalian germline cycle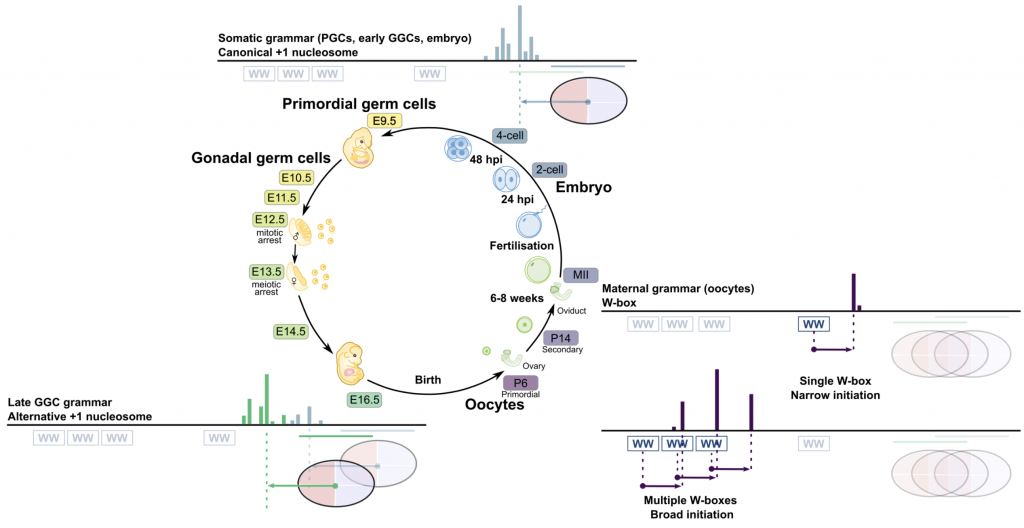 Transcriptome-wide capping of mRNA fragments